President Jebb's Biography 
Cindy R. Jebb, Ph.D. became Ramapo College's fifth president on July 6, 2021. Dr. Jebb retired from the U.S. military after 39 years of service at the rank of Brigadier General, Professor Emerita, and as the first woman Dean of the Academic Board at the U.S. Military Academy at West Point.
In Dr. Jebb's first year as president, the College established as its priority ensuring a healthy, well, safe, and vibrant student experience, while embracing a culture of dignity and respect marked by empathy, equity, diversity, and inclusion. Moreover, the College launched a comprehensive Strategic Planning process through a set of campus-wide conversations driven by The Future Series, a Priority Needs Proposal Process, and Campus Master Planning. In addition, Ramapo opened the doors to the renovated George T. Potter Library and new Peter P. Mercer Learning Commons, hosted noteworthy guest speakers, advanced a strategic reorganization, and earned regional and national accolades. Dr. Jebb also introduced a new tradition at Ramapo College during her first year–the Ramapo College Presidential Coin. The coin, which was designed by Ramapo students, is bestowed by the President upon members of the community who demonstrate the values of being bold, being kind, and being good teammates.
Dr. Jebb lends her leadership experience to prominent organizations and boards including service as a member of the Council on Foreign Relations, Ramapo College Foundation Board of Governors, Workforce Opportunity Services, West Point Jewish Chapel Fund, Meadowlands Chamber of Commerce, Army Historical Foundation and the New Jersey Association of State Colleges and Universities.
Prior to joining Ramapo College, Dr. Jebb served as the 14th Dean of the Academic Board at West Point during which time she oversaw the Academic Program and chaired the Academic Board. Under her leadership, her team elevated the Academic Program through transforming the schedule; framing the curriculum; emphasizing diversity, equity, and inclusion; setting the path for the visionary Academic Building Upgrade Program; incorporating best practices of talent management; establishing tenure tracks for civilian faculty; strategically investing in the Academy's infrastructure; expanding and diversifying resource support; and establishing a faculty development hub–all while fostering student achievement.
Prior to her appointment as Dean, Dr. Jebb served as the Professor and Deputy Head of the Department of Social Sciences in 2005 and later Professor and Head of the Department from 2013-2016. A well-regarded scholar and instructor, Dr. Jebb is the author and co-author of three books, two monographs, and a variety of journal articles, book chapters, and conference papers.
Dr. Jebb, who in her senior year captained the Army Volleyball Team that beat Navy in its inaugural Army-Navy match, served as Head Officer Representative for Army Volleyball and as the Faculty Athletic Representative for West Point. Dr. Jebb is also a former military intelligence officer and a recipient of an honorary doctorate from Bard College. Additionally, she has served in command and staff positions at home and abroad; conducted human security research in Africa; and completed study projects in Iraq and Afghanistan to include serving as a senior advisor to the Chief of the Office of Security Cooperation-Iraq during the summer of 2015.
Dr. Jebb earned a B.S. from the United States Military Academy at West Point, a M.A. in Political Science from Duke University, a M.A. in National Security and Strategic Studies from the Naval War College, and a Ph.D. in Political Science from Duke University. Dr. Jebb and her husband, who reside in Mahwah, have four grown children (including their daughter-in-law) and one grandchild.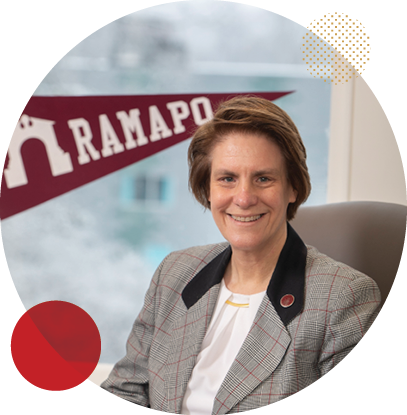 President Jebb in the News:
"[Ramapo College] is all about being service-oriented, leadership-oriented, and individualized attention, so that people are inspired to make a difference."
–The Value of A College Degree, State of Affairs with Steve Adubato, NJ PBS
"At Ramapo, we believe an institution can position itself on the leading edge of change if it is brave enough to ask, "What's next?" Well, a liberal arts graduate is prepared to not only be the person who poses that query but also to lead the team in an effort to come up with the answer."
–Answering difficult questions: How liberal arts schools equip and empower the leaders our society needs, NJBIZ
"Ramapo College continues to navigate this pandemic with our eyes wide open and with empathy in our hearts. We've learned a great deal about our students, ourselves and our curriculum. Some of the measures we've taken over the past 18-plus months that we anticipate will be sustained post-pandemic include increasingly concerted efforts to cultivate equitable and inclusive practices, a tailored approach to remote work on the business side of the college, the thoughtful use of technology to further enhance student learning and the continuation of efforts that promote a healthy and well environment."
–How N.J.'s Higher Education Institutions Have Adapted in The Face of A Pandemic, Jersey's Best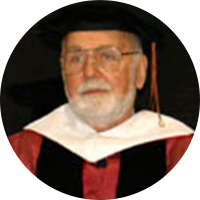 George T. Potter * (1969 to 1984)
George T. Potter became Ramapo College's first president when it was founded in 1969. Prior to that, 1962-1969, Potter served as vice president for academic affairs at Grand Valley State University, Allendale, Michigan and was instrumental in helping to plan the institution prior to its opening in 1963. George Potter was born in England and obtained a social science degree at Stanford Hall, Loughborough and a master's degree in politics, philosophy and economics at Oriel College, Oxford. He also holds an Ed.D. degree from the Fielding Institute in Santa Barbara, and was awarded an Honorary Doctor of Letters degree from Ramapo. Working with Ramapo's first board, Potter helped to plan the College's new campus on the Birch Estate in Mahwah as well as the academic structure of the institution. Potter returned to teaching in the School of Administration and Business following his retirement as president in 1984.
*deceased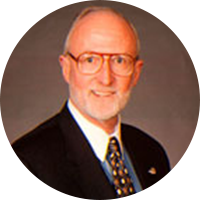 Dr. Robert A. Scott (1985 to 2000)
Dr. Robert A. Scott served as president of Ramapo College of New Jersey from June 1985 through June 30, 2000, when he was elected President of Adelphi University. His tenure at Ramapo was marked by rising enrollments, increasingly rigorous admissions standards, a construction boom, fiscal stability, the addition of three graduate degree programs and numerous other programmatic improvements and new undergraduate majors; new global partnerships with schools, universities, corporations and both local and international organizations; a renewed focus on "the four pillars" of a Ramapo education: international, multicultural, interdisciplinary, experiential learning, and successful fundraising. While at Ramapo, Scott helped create the Council of Public Liberal Arts Colleges and Ramapo was designated as New Jersey's public liberal arts college. Prior to assuming the presidency at Ramapo, Scott was assistant commissioner for the Indiana Commission for Higher Education and associate dean and senior administrator of the College of Arts and Sciences at Cornell University. During his term at Ramapo, he was on loan to the Governor to head the committee charged with launching the Commission on Higher Education. He earned a B.A. from Bucknell University and a Ph.D. from Cornell University. The Ramapo College Student Center now bears his name.
Dr. Rodney David Smith (2001 to 2004)
Dr. Rodney David Smith, Ramapo College of New Jersey's third president, served as president from July 1, 2001 through June 30, 2004. Smith successfully dealt with the challenges of two consecutive years of state budget cuts, presiding over the construction of several new facilities and significant growth in enrollment and student preparedness. He completed the College's first campus-wide strategic plan, instituted the Offices of the Provost and Chief Information Officer and brought distinguished lecturers such as Lech Walesa, Julian Bond, Cornel West and Oliver Sachs to the campus. Smith placed an emphasis on strengthening academic administration and pursuing major grants, securing a federal appropriation for an academic facility to be named for former Congresswoman Marge Roukema. He also oversaw the signing of a multi-million dollar agreement with the Meadowlands Commission.
Originally from The Bahamas, Smith served as senior psychologist with the Ministry of Education and Culture, held several vice presidential positions at Hampton University over a ten-year period and held the position of program coordinator at the Harvard Institute for Educational Management at Harvard University.
He was named an MLI Fellow by the American Association of State Colleges and Universities for 2000, a Bush Foundation Fellow in 1997 and an Organization of American States Fellow for training and research at Harvard University from 1983 to 1986. He has served on the ACE Commission for International Education; AASCU Committee for International Education; Board member for the New Jersey Board of Examiners and other leadership positions.
Smith holds a bachelor's degree in psychology with a minor in ecology from St. John's University in Minnesota. He holds a master's in clinical psychology from Fisk University in Tennessee, a master's with a concentration in international development from Harvard University and a doctorate in administration, planning and social policy from Harvard University.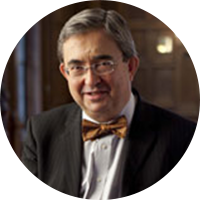 Dr. Peter P. Mercer (2005 to 2021)
Dr. Peter P. Mercer, Ramapo College of New Jersey's fourth president, served as president from July 1, 2005 through June 30, 2021. Prior to Ramapo, he previously served as dean of the law school and then as vice president (administration) and general counsel at the University of Western Ontario, where he was a professor of law.
Dr. Mercer has authored, co-authored and edited two books, numerous articles, book chapters and reviews. His most recent publications have focused on the legal profession and professional standards as well as the unique features of higher education administration. He earned his L.L.M. and Ph.D. from the University of Cambridge, and a J.D. from the University of Western Ontario.
For 20 years, he also has served as principal instructor in the Senior University Administrators Course held at the Banff Center, Banff Alberta, each June and he is a member of the faculty of the Harvard University Seminar for New Presidents held every July. He also served on the State of New Jersey's 2015-16 College Affordability Study Commission. In addition to the higher education sector, Dr. Mercer's service includes membership on the Board of Directors of the Commerce and Industry Association of New Jersey, the Meadowlands Regional Chamber of Commerce, and New Jersey Governor-elect Murphy's Transition Team for Urban and Regional Growth.
During Dr. Mercer's tenure at Ramapo, the College has been increasingly regarded as a great value and a superior institution. Ramapo College has been ranked by U.S. News and World Report as among the "Best Regional Universities in the North," and by Kiplinger's Personal Finance Magazine as one of the "100 Best Values in Public Colleges." In addition, in 2017, College Choice ranked Ramapo College as the number one public college in New Jersey.
Over the past several years, Dr. Mercer has led Ramapo College through an ambitious and transformative campus-wide building program that has resulted in the completion of the Anisfield School of Business, the Bill Bradley Sports and Recreation Center, the Overlook and Laurel residence halls, the Sharp Sustainability Education Center, the Salameno Spiritual Center and the Adler Center for Nursing Excellence. The College completed renovation to its academic complex that houses state-of-the-art science and research laboratories and other instructional and social space, in addition to ongoing projects across campus, and is currently embarking on major renovations to the George T. Potter Library.
Dr. Mercer is married to Dr. Jacqueline Ehlert-Mercer.