A Sprint to the Finish Line:
Traore's Record Breaking Collegiate Career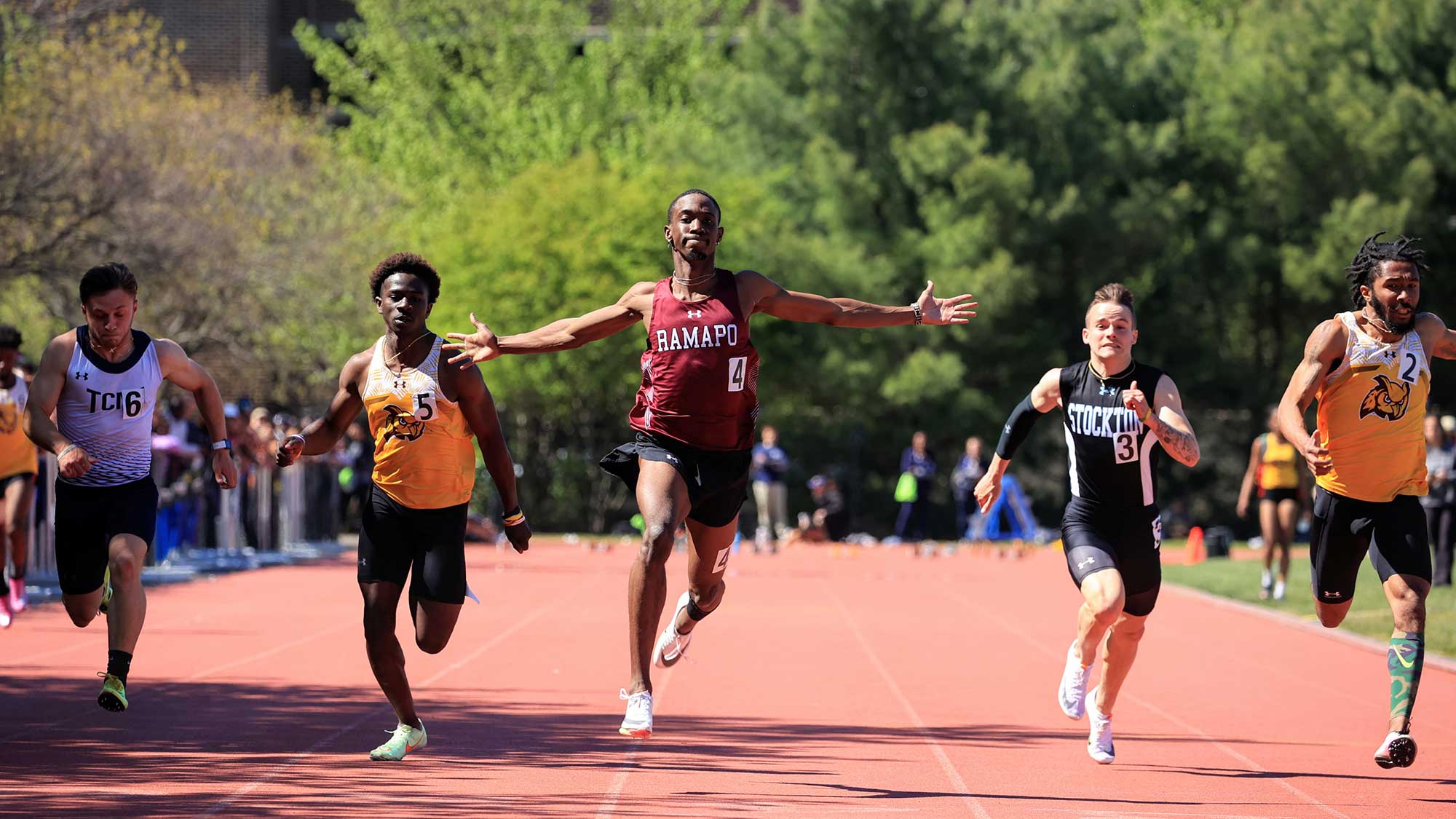 By Rachel Pinton '01, Assistant Athletics Director for Communications, Marketing & Branding |  Winter 2023
One of the most decorated track and field athletes to come through Ramapo College, Cheickna Traore '23 first stepped foot on American soil at the young age of five from the Ivory Coast. Traore quickly learned that the United States could offer him and his family a great opportunity for a quality life, including a top notch college education. "After focusing my college search solely on Division I and II schools, I was encouraged to take a look at Ramapo," Traore said.
Traore immediately saw the campus for its tight-knit community.  After his first visit, he knew it was the place to call home for the next few years, deciding on Ramapo mainly because of Head Coach Justina Cassavell. "She showed me that she truly cared about me as a person. She was dedicated to have me compete as a Roadrunner."  But the transition of getting accustomed to his new environment and the coaching staff was not so seamless at the starting line. "Coach Cassavell was 100% supportive and made me feel at home, but I didn't trust Assistant Coach Ackeme Brown at first, which I told him right away."
Traore's background in high school included mostly cross-country. Daily trainings consisted of long distance running as the key component. Coach Brown changed tactics to teach Traore to use his number one artistry, his speed, and focus on the skill of sprinting. "Just watching his very first practice with me, I knew he could be special," Assistant Coach Brown stated. "What he has done already in just over two years is beyond even my expectations." Traore's trust for Brown slowly built as each practice day passed, and with just one collegiate meet under his belt, the athlete/coach bond was evident. "It took just one meet for me to quickly understand why and how his trainings and belief in me would translate into a competitive collegiate career on the track, rather than running long distances, so the trust eventually settled in."
Traore came to Ramapo College in the Fall of 2019 out of Innovation High School in Jersey City. "I am very grateful Cheickna decided to attend Ramapo College and embrace our program and our new sprint coach," Head Coach Cassavell stated. "Watching them both develop into an incredible coach and athlete has been one of the highlights of my career."
It was a short time in which Traore made his mark at the College as he earned one of his first accolades at the conclusion of his rookie season being named New Jersey Athletic Conference (NJAC) Indoor Track & Field Rookie of the Year.  "Ramapo in general, but especially my teammates, have become my community.  The College's small nature has allowed me to meet so many great people both on my team and on the campus in general, and their support has lifted me to accomplish so much in such a short time."
The list of records broken, both locally and nationally, and awards and honors he has already received is extensive, with still a full season of competing left under his collegiate belt. "The most meaningful accomplishment to me has to be my personal best time of 20.56 seconds in the 200-meter dash." Traore clocked his personal best at the 2022 NCAA Outdoor Track & Field Championship where he posted the second-best time in NCAA Division III history, placing 2nd overall and earning All-American honors. "It was the biggest shock of my life.  I don't think people quite understand what that time means as a Division III athlete, but it shows I can keep fighting to run faster," he added.
As a senior athlete, he has built an extensive resume.  He is a three-time All-American and individually holds all three outdoor open sprint records at Ramapo in the 100, 200 and 400-meter races. He holds the 60, 200, 300, 400, and 500-meter records on the indoor track, while also being a part of the record breaking 4×400-meter relay team for both indoor and outdoor. He currently holds the NCAA Division III National Record in the 300 and 500-meter dashes. "I've watched him break every single one of his records one by one, and I can say I've been impressed every time a record falls," Brown added. Along with being named the NJAC Rookie of the Year for both indoor and outdoor track and field, he was also named to the NJAC First Team All-Conference on four occasions.  He has numerous individual NJAC Championships in the 60-meter dash, 100-meter dash, 200-meter dash and 400-meter dash, while earning NCAA Metro All-Region and NCAA All-Atlantic Region honors in multiple events. He's been named the Thomas M. Gerrity Most Outstanding Athlete of the Year and the G. Larry James Most Outstanding Athlete for the NJAC Conference.   He clocked in as champion at the All-Atlantic Region Championship in the 400-meter dash with a meet record, earning U.S. Track & Field and Cross Country Coaches Association Metro Region Athlete of the Year.
Traore isn't stopping yet. "My family is my biggest drive and motivation to compete.  They have supported me throughout my career, even when I wasn't that good in high school.  I set crazy goals for myself and I plan to do the same after my college career has ended."  Traore plans to continue to train while attending a Division I college with similarities to Ramapo's size and family atmosphere, to complete a masters degree in data analytics.
His athletic sights are set on representing his country, the Ivory Coast, at the 2024 Olympics.  Though he wishes he started the sport at an earlier age which may have excelled him to higher levels, he is thankful for what the sport brought to his life, including celebrating accomplishments with his family and teammates.  Once he makes his Olympic debut, Traore plans to hang up the spikes, knowing the sport could not possibly be his livelihood.  "The sport has been good to me, but I know my future brings a career doing something in IT, and I'm okay with that!"
To follow Traore's final indoor and outdoor seasons as a Roadrunner, visit www.ramapoathletics.com.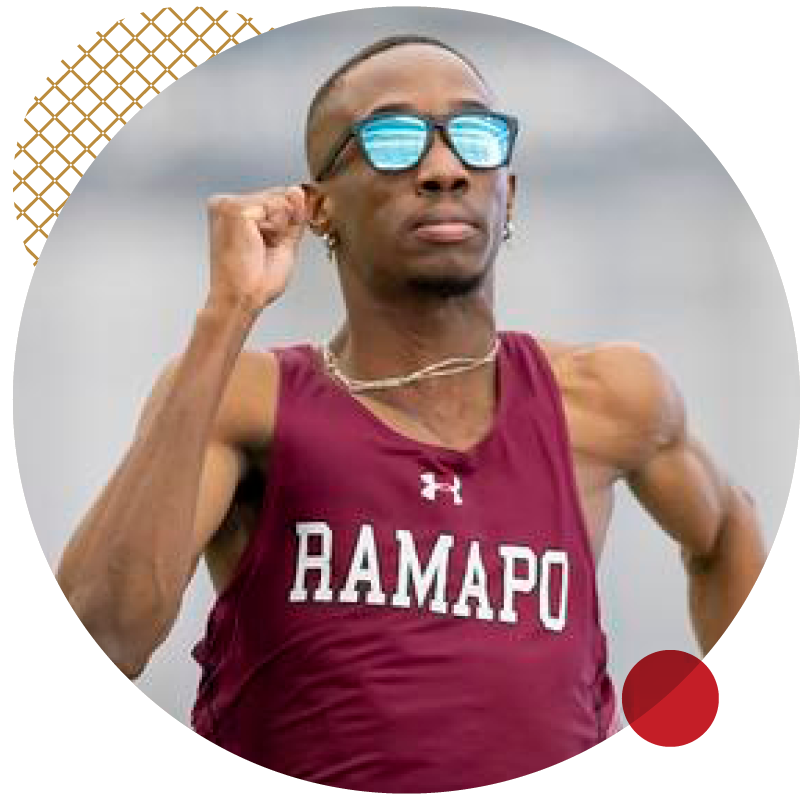 Fun Facts:
What is your favorite food?
Jollof Rice, but only the way my mom and sister-in-law make it.
What do you eat prior to meets?
I like to eat salmon the day before. It started when the team went out together one day and ever since I've tried to keep it going.
What is your favorite color?
Red.
What is your favorite song?
At the current moment, it would have to be "Vice City" by XXXtentacion.
Favorite thing to do besides run?
Play video games. I'm thankful for track, so I stay away from the console.
What is your favorite place to visit outside of Ramapo's campus?
Definitely Chick-fil-A. You can find me there TOO many times a week. (My Coaches are not gonna like this one).
Favorite place on campus?
The Bradley Center is where all the magic happens.
Who do you look up to the most?
My mother has been the biggest influence and role model in my life. Everything I've done in life is in hopes of making her proud of me.